Parent Teacher Conferences from 3-7pm on Thursday, March 16 and AMI day 8 on Friday with no on-site instruction!

Monday, March 13th, 2023 the Lincoln School Board approved a 4-Day school calendar for the 2023-2024 school year. ​We have attached the 23-24 school calendar below. We believe this new calendar will be a successful and positive path forward for our district. One main concern raised was about childcare. We are actively working on childcare opportunities. ​​#WeAreTheWolfpack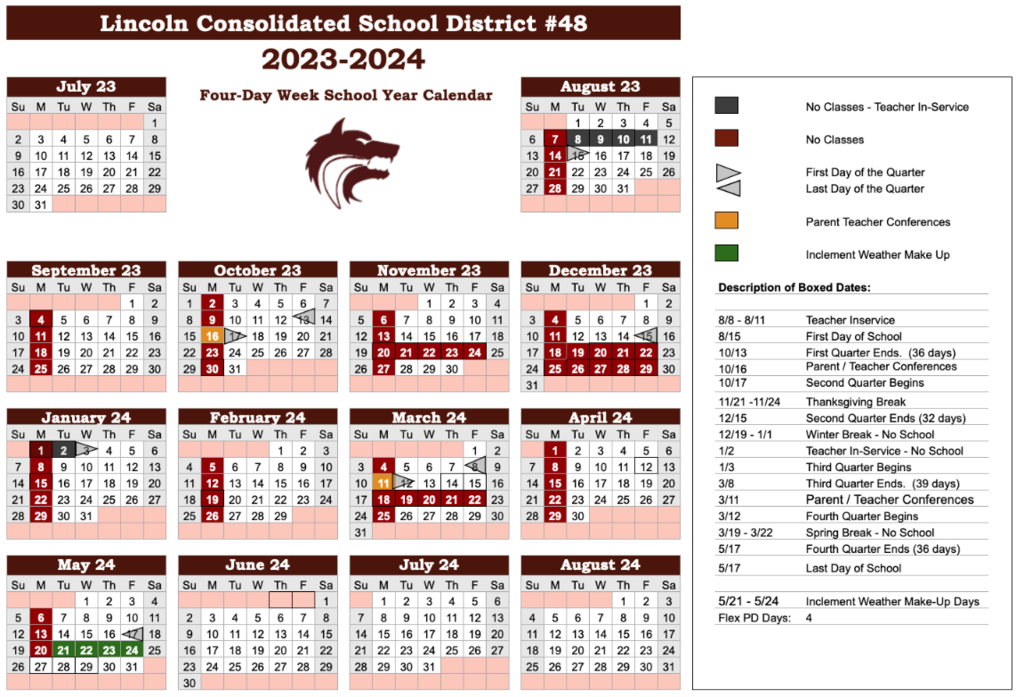 There will be a youth soccer parent meeting today, Tuesday, March 14th, at 5:30 at the High School Gym.
Our school phones, in the elementary and high school, are not working at this time. We are working on getting them fixed ASAP. If you have an emergency please message your child's teacher through their remind app or call the admin office at 824-7310.

May 1st, 2023 is the deadline for School choice. Join the Wolfpack to get #custommade and #writeyourstory with Lincoln Consolidated School District! Watch Student Stories Part 1 here:
https://www.youtube.com/watch?v=CgCgW_vSiyE

NO SCHOOL Thursday, March 16, and Friday, March 17, due to Parent/Teacher Conferences and AMI Day 8. Spring Break will be Monday, March 20 - Friday, March 24.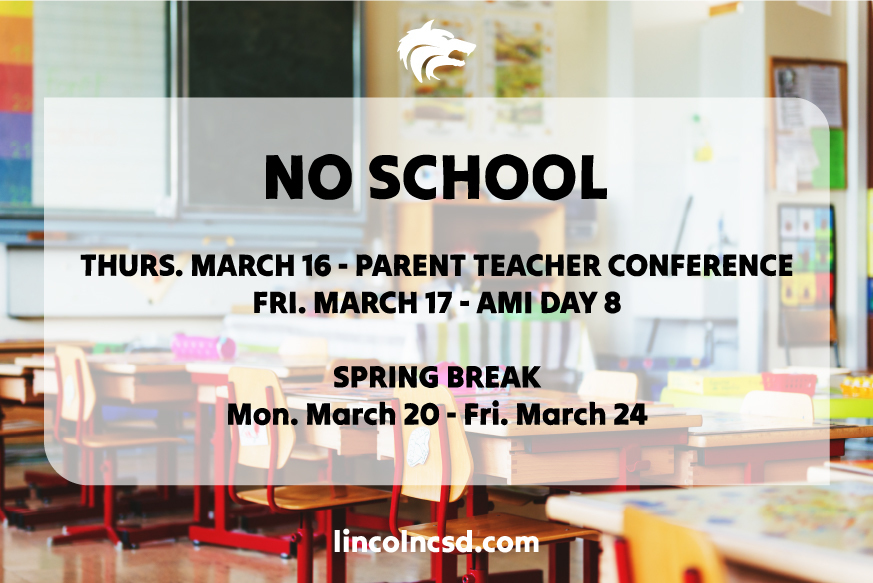 For those who could not make it out to the Community Forums that we held at our Administration building, below is the proposed 4-day school week we presented at these meetings. For further information, visit the contact page of our school site and select a method of communication and we will be happy to answer any additional questions you may have. bit.ly/3mwk2Gl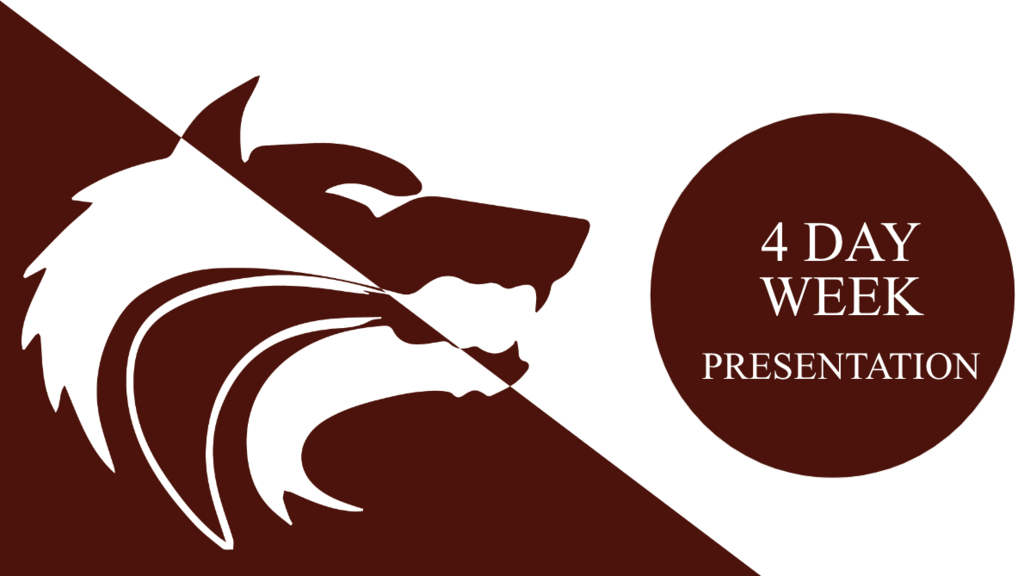 Lincoln CSD is hosting two community forums for a proposed 4-day school calendar for the 2023-2024 school year. We invite parents and guardians to the following meetings, where the district administration will review the proposal and field questions. Mark your calendars with the dates below if you wish to attend. Friday, March 3rd, 2023: 8:30 AM Tuesday, March 7th, 2023: 6:00 PM Location: Administration Building: 107 East School Street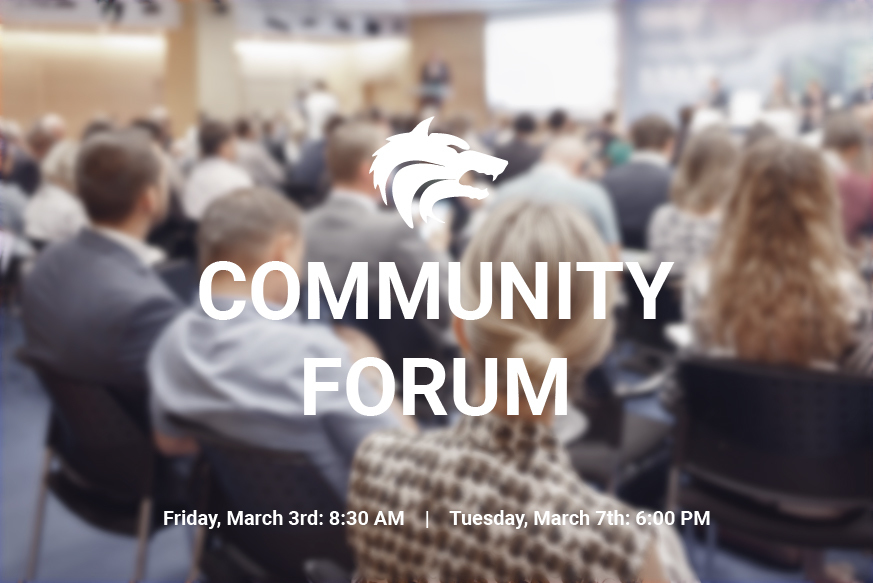 Peewee sports: Registration closing soon! Saturday, February 25th is the last day to sign-up. Get your kiddos signed up by filling out the forms below! Spring Soccer Registration 2023 - bit.ly/3HQL9D5 Summer Softball/Baseball Registration 2023 - bit.ly/3HLMwTC

Catch up with the latest student stories, events, and news updates. It's everything Lincoln CSD, in your pocket. If you haven't already, download the app!

 Download for Android
https://bit.ly/3wis2MB

Download for iPhone
https://apple.co/3iHaren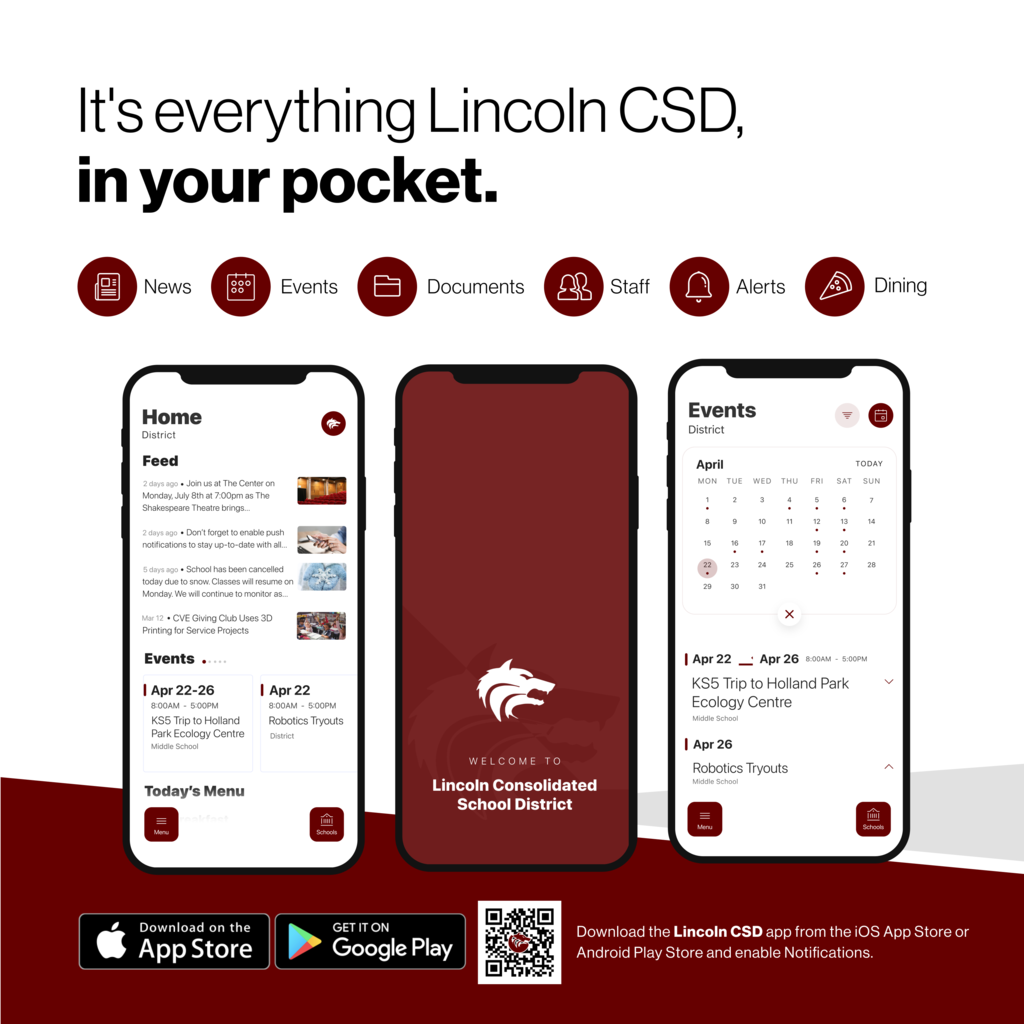 In observance of Presidents Day, there will be NO SCHOOL Monday, February 20th, 2023!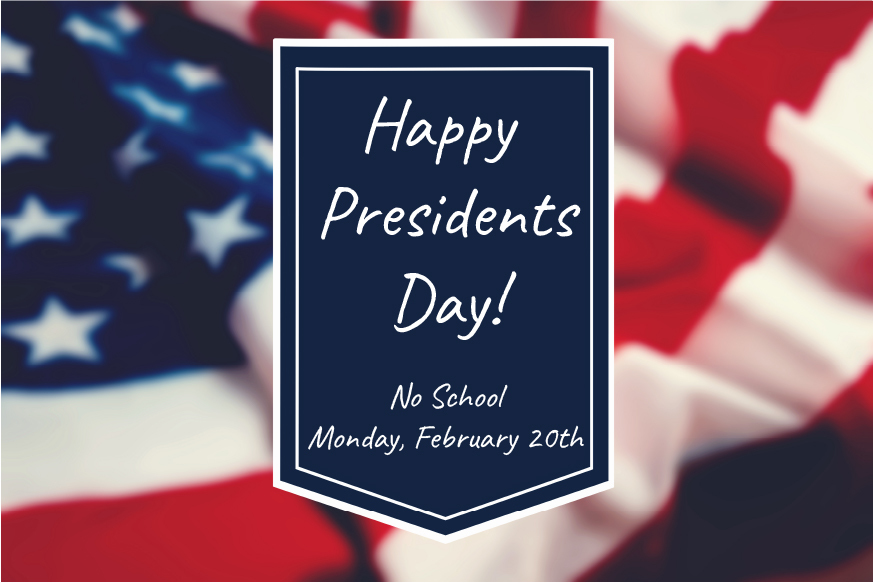 Parrish Raborn was selected as the Lincoln DAR Good Citizen for 2022-23 and was honored at a ceremony last weekend. He was nominated by his peers and teachers in the Fall. The DAR Good Citizen is a student who demonstrates, in an outstanding way, the qualities of dependability, service, leadership, and patriotism. Parrish is an excellent representative for LHS because he embodies those characteristics (and more) so well. Congrats, Parrish!

Valentine's Day boxes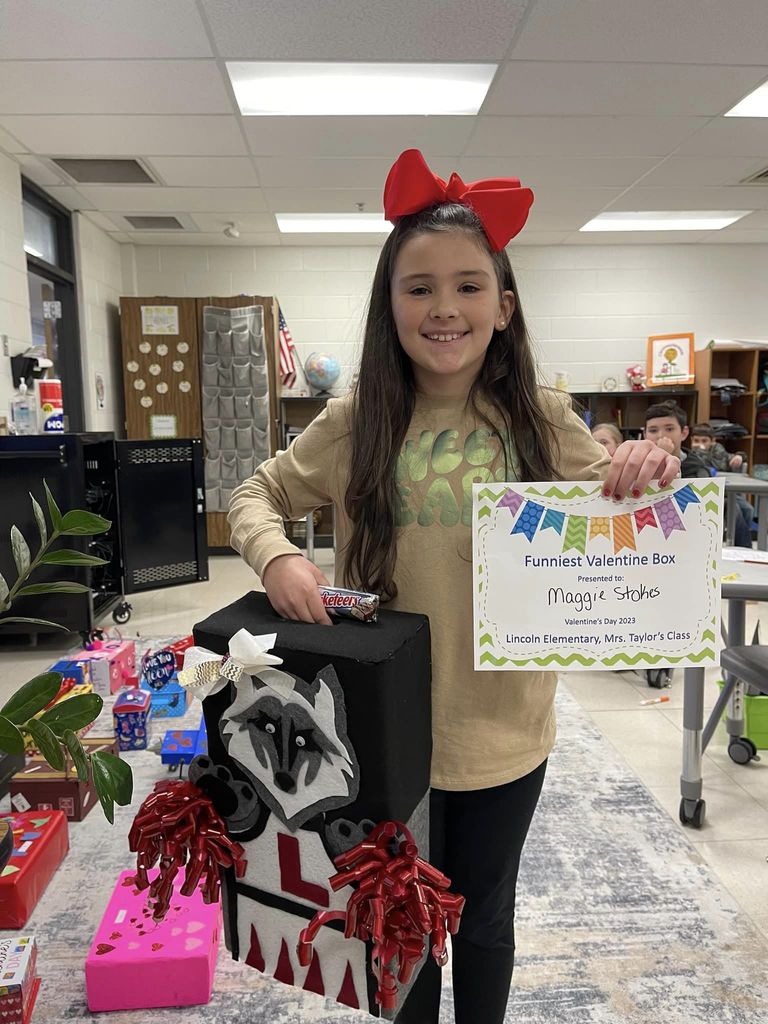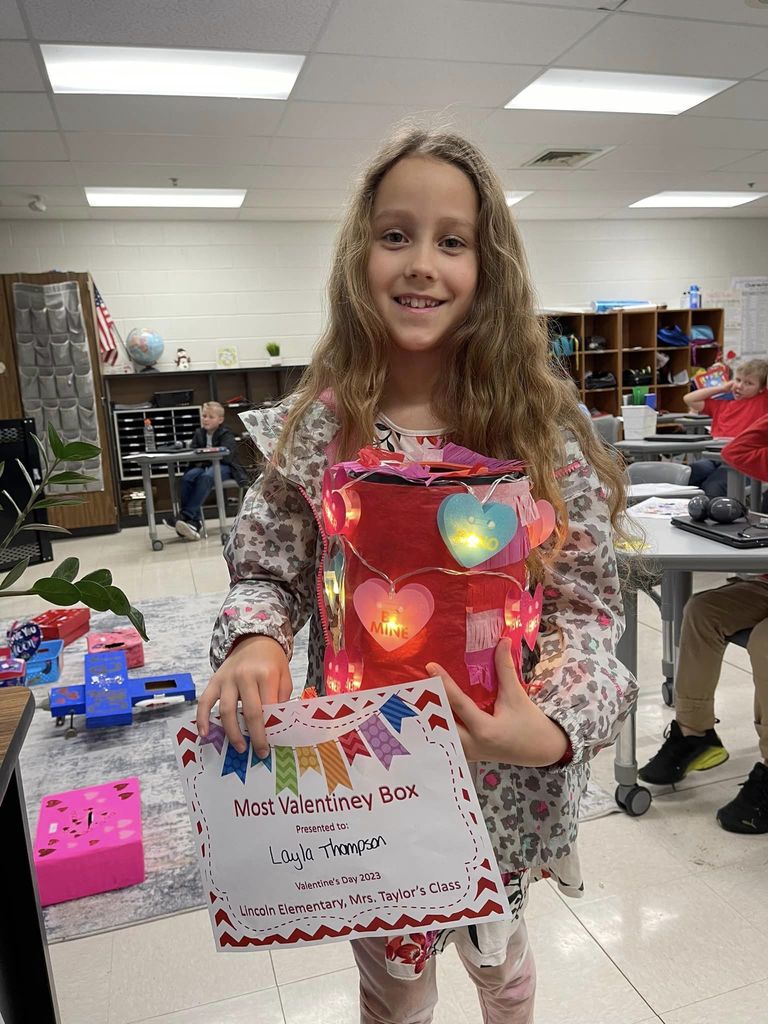 Congratulations to our very own Paxton Price for WINNING the USA Welding Skills competition! Big things in this young man's future!! LHS Skills!!

Lincoln's EAST underwater drone group traveled to Lincoln Lake again today to work on their project. This wouldn't be possible without our LYAC donated by Lewis Ford Sales Inc. #LincolnEAST #lewisautomotive #LincolnLake #lcsd #wolvesleadingthepack #gowolves #lhs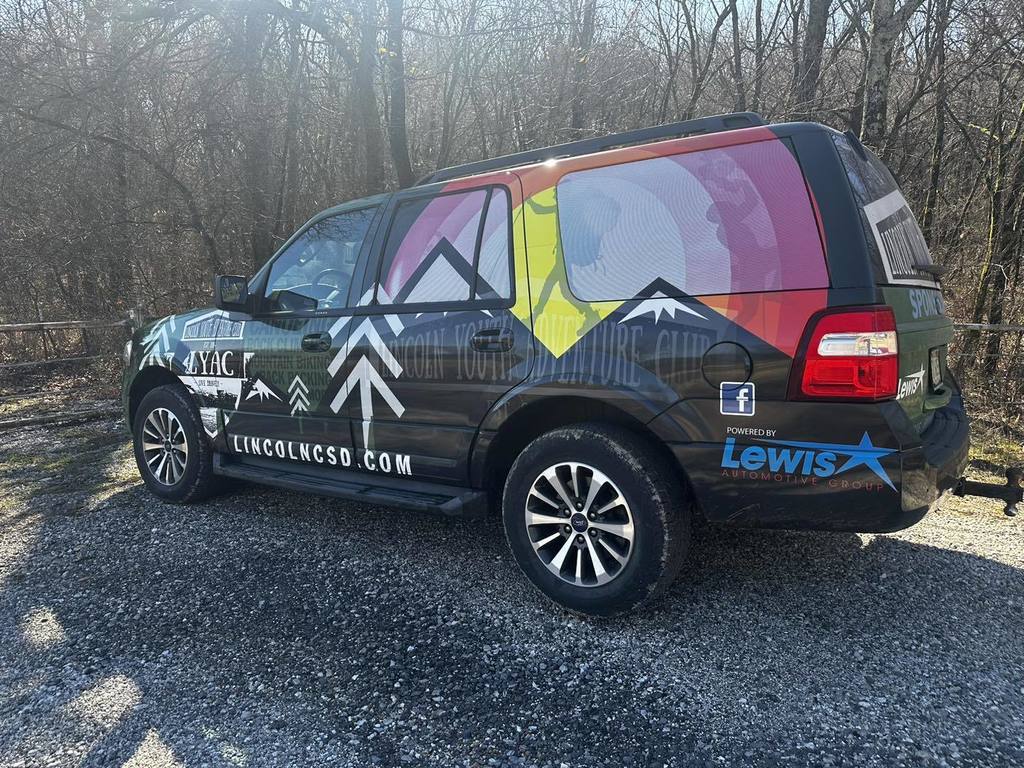 Who's ready for spring/summer Peewee sports?! Registration is now available, so get your kiddos signed up by filling out the forms below! More details coming soon. Spring Soccer Registration 2023 - bit.ly/3HQL9D5 Summer Softball/Baseball Registration 2023 - bit.ly/3HLMwTC

Sr Night Friday, Feb 10th | vs. Elkins | 4:30 | Theme: White Lies. Seniors Left to Right, #24 KJ Antoine, #4 Tabor Lewis, #11 Saylor Stidham, #5 Lily Riherd, #2 Erik Skogen.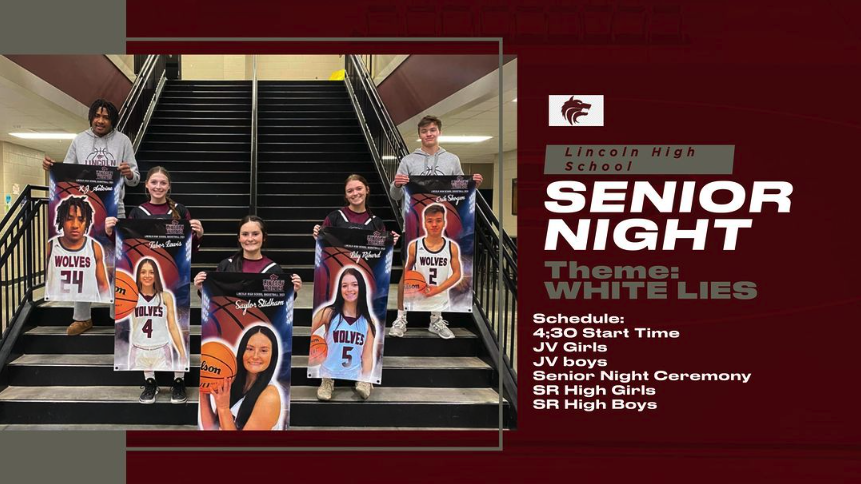 Thank you, Charlene Lewis and Hunt-Rogers Company for hosting an event called Meals of Hope. Charlene and her daughter Jasmine facilitated the donation of a few thousand bags of food to our local community. Jasmine Lewis is a Lincoln High School student and Key Club member who suggested these two great programs to her mom and she made it all happen. This nonperishable food will be used in the Lincoln Schools' "snack pack for kids" program and Essentials Outreach in Lincoln (third Saturday of every month).
https://mealsofhope.org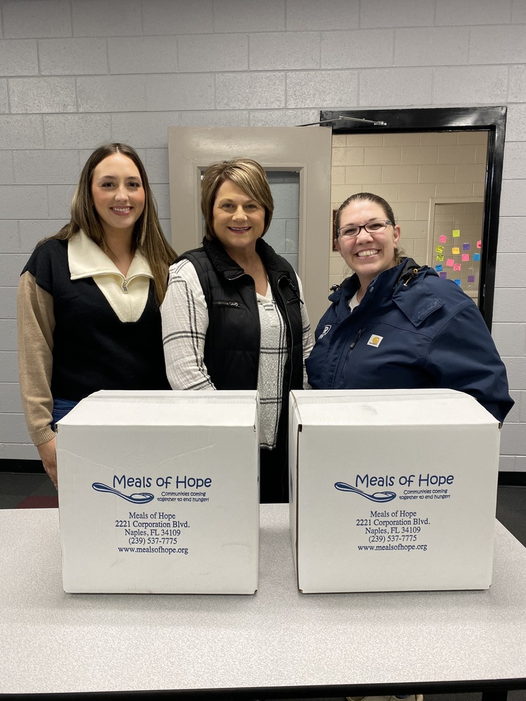 Lincoln Middle School is having a Girls on the Run team for the Spring season! 💜 Register at: gotrnwa.org #girlsontherun #girlsontherunnwa #girlsontherunnorthwestarkansas #GOTR #gotrnwa